Sangria
Regular price
Sale price
$6.99 USD
Unit price
per
Sale
Sold out
This luscious wine red takes its cues from the beloved fruity drink. Equal parts bold and sophisticated, this shade will add depth and confidence.
Coverage
50g Tester 8-10 ft² (a side table, several mirror frames or small chair)

330g (1 Quart / 0.5 lbs) 70-75 ft² (a dresser and a side table)

2.3kg (10 Quarts / 5 lbs) 700-750 ft² (a large dining room table with 8 chairs and sideboard)

4.5kg (20 Quarts / 10 lbs) 1,400-1,500 ft² (large size kitchen, all cabinets and an island)

13.6kg (60 Quarts / 30 lbs) 4,200-4,500 ft² (multiple large projects, a full size deck and large kitchen and flooring etc)
DIRECTIONS

Choose a surface to get started:

SHINY, GLOSS, + PREVIOUSLY PAINTED
Lightly sand to remove sheen

PREVIOUSLY WAXED PIECE
Remove the wax with mineral spirits

IKEA SURFACES SUCH AS MELAMINE AND THERMOFOIL
Add bonding Agent to your Milk Paint

BARE WOOD
No primer needed

FUSIONTM MINERAL PAINT
No primer needed

New to Milk Paint? You've got this!

Just add water!

Mix it
Combine 1 part water to 1 part powder and stir for 1 minute.
Paint it
Using any brush, apply Milk Paint to your surface. Each coat dries within 15-30 minutes (yep – speedy!) and can be re-coated immediately once dried.
Finish it
Apply a top coat to seal your Milk Paint and bring out the true depth of colour! This will also protect your paint for a finish that lasts generations. Hemp oil and furniture wax are great, easy to use options!
BENEFITS

Easy to mix
No brush strokes
Smooth as silk to chippy chic - you choose
Ultra-durable
Won't chip or peel on porous surfaces
Super versatile – use it on furniture, walls, and any interior or exterior applications
FREQUENTLY ASKED QUESTIONS

How do I use Milk Paint? Do I have to mix it?

Just add water – it's truly that easy! Stir 1-part water to 1-part powder and you're good to go.. It may seem intimidating to use milk paint because of the mixing aspect – but don't be discouraged. Rather, think of it as a chance to really get involved in the process.We've refined our recipe over the years making it easier than ever to work with. The best part is, our Milk Paint formula is shelf stable, so you only need to mix what you need. The rest will be ready for your next project.

What is your colour range like?

Our collection features 25 signature shades. Now the tough part, how to choose which colour to use?

What kind of finish can I expect?

One of our favourite things about our Milk Paint is how many different looks you can get. This is versatility at its finest. Depending on how you apply and finish it, you can get that super smooth MCM sleek finish, or a weathered and distressed look. Milk Paint is just like choosing your own adventure. Depending on the look that you're going for, you'll mix it a bit differently, you'll prep a little differently, you'll apply it how you prefer, distress if you wish, or don't, and you'll topcoat it to your desire. It's completely customizable.

Who is this paint best for?

This paint is perfect for you and your unique style. Whether you're an experienced painter or whether it's your first time picking up a paint brush – our Milk Paint is incredibly easy and fun to use. - The results that you will get will blow you away. No brush strokes, a super soft finish, and ultra durable and long-lasting. It's time to pick up a brush and roll up your sleeves. You've got this.

How long does it take to dry?

Our Milk Paint cures in 30 minutes. No, that's not a typo! This is the fastest drying paint you'll find on the market. In fact, it takes less time than it takes to stream an episode of your favourite show. Your time is precious, so go ahead and get your top coat ready.Within minutes you see the colour of the milk paint start to change –it almost goes chalky, and less intense of a colour. You may stop and think, "this isn't the colour I was going for!" – but wait until you top coat it to see it in all its glory and at its true vibrancy.

What about the top coats? What do you recommend?

Any top coat you like! Our Milk Paint can take any top coat of your choice.Hemp oil, because it's the easiest to use. Liquid gold – we've been saying it for years! It will give you the most amazing finish and really make your Milk Paint pop.

New to Hemp Oil? This gorgeous, locally sourced oil is pressed from hemp seeds. It's such a pleasure working with this naturally drying oil as there are no additives or solvents. It works beautifully on raw, new, or reclaimed wood. The older the wood the richer the colour of the wood becomes so you skip the need for a stain! Most beautiful of all, it smells like crushed walnuts when you work with it.

What kind of surfaces can I use Milk Paint on?

The sky's the limit! You can paint anything with our Milk Paint and you can paint virtually anything you need. Metal, glass, plastic, wood – it all works.

Although Milk Paint is traditionally known as a furniture paint, it's actually an incredible paint for all kinds of surfaces from floors to walls. On raw wood floors, either stain or paint them with Milk Paint for a non-chipping extremely durable surface. Got kitchen cabinets, go for it.

What's the texture like?

Smooth as butter!When finished correctly, it almost feels like a factory spray finish, but it's actually brushed on. Milk Paint self-levels, however, the water can raise the grain of bare wood so will require a light sanding after the new paint has dried. So as not to create any dust, you can apply hemp oil prior to sanding/distressing.

Do I need a primer?

No Primer needed! Milk Paint actually binds with the wood fibers when applied to raw wood, not allowing for that peeling to occur. Milk paint can absorb into porous surfaces without any additional product being used for instance brick, mortar, plaster etc. Chipping happens when it's applied to an existing glossy sheen paint or a surface that has been oiled or waxed. Since it cannot absorb or adhere very well to these surfaces, the milk paint will chip randomly, which is also a beautiful effect. Fusion Mineral Paint is a low matte sheen so milk paint can be applied to that. We encourage you to always test your methods prior to doing a project.

How is your paint made?

Milk Paint by Fusion is made the traditional way, and we love the authenticity. True milk paint always comes in powder, and all you have to add is water. We make each small batch of milk paint by hand, with materials sourced as locally as possible. We support local companies to provide us with our raw materials and packaging, and we hire locally, and hand pour everything right here in North America.

How do I avoid brush strokes?

Milk Paint is truly the most forgiving paint to work with, it's almost impossible to create brush strokes thanks to its smooth, creamy consistency. Super smooth, every time.

Do I have to mix the whole bag?

Waste not, want not – only mix what you need. It virtually lasts forever in powder form, it doesn't go bad, whereas all premixed paints have a shelf life.This is indefinite as long as it is unmixed and kept in relative neutral temperatures and the container is completely shut so humidity cannot enter the packages. If you do happen to mix up too much Milk Paint, not to worry – simply put it into a tightly sealed container and when you are ready to use it again, simply stir it up. No need to refrigerate. Our convenient sizes of Quarts and testers allow for essentially any size project to be completed without waste.

Is the finish sheer or opaque?

Solid Or stain coverage - you choose!Mixing instructions for a solid, opaque coverage are 1 part Milk Paint powder to 1 part water. If you want more of a stain look, mix 1 part Milk Paint powder to 3 parts water. Adjust as desired. Too opaque looking? Add more water. Too transparent? Add more powder.
Share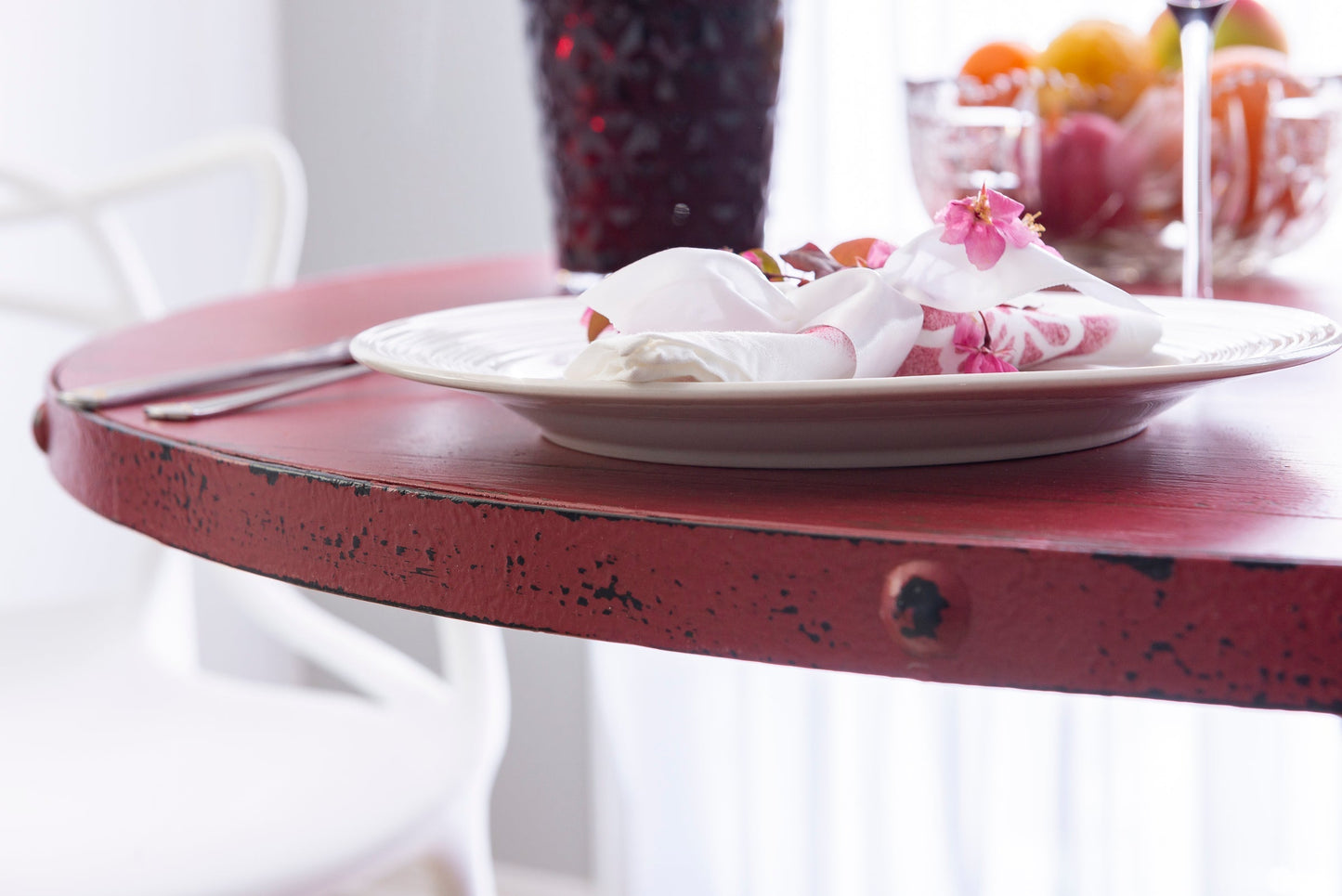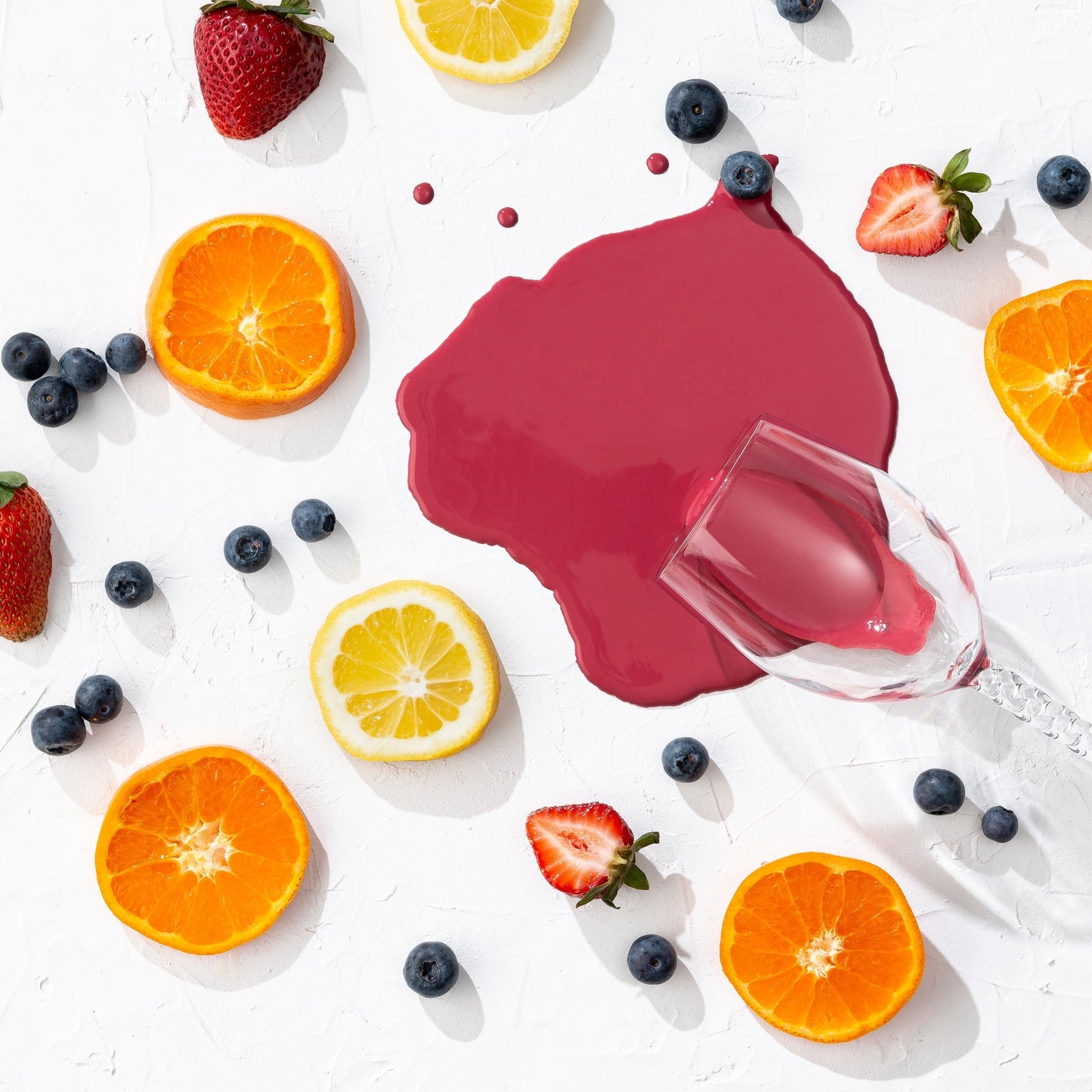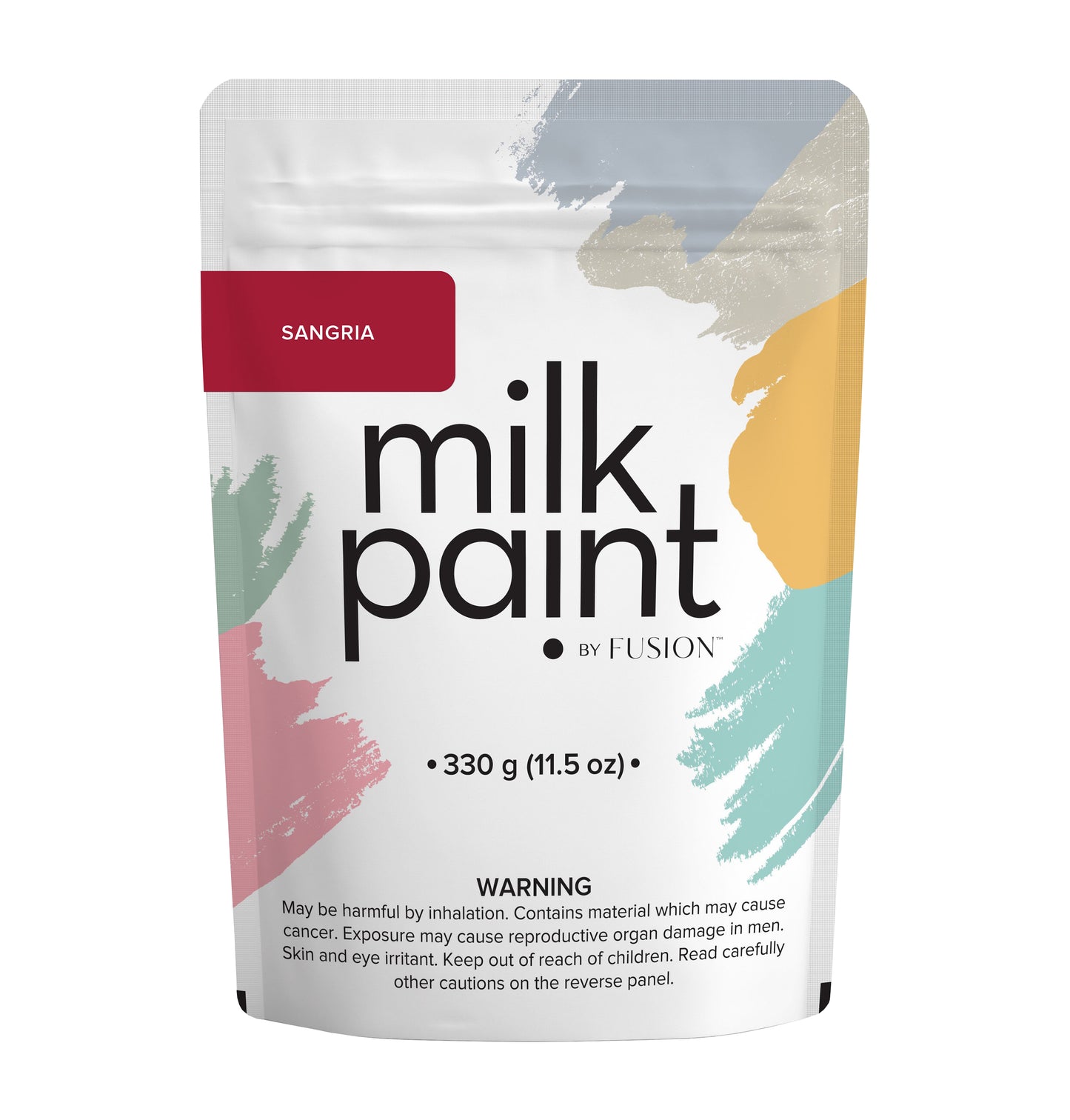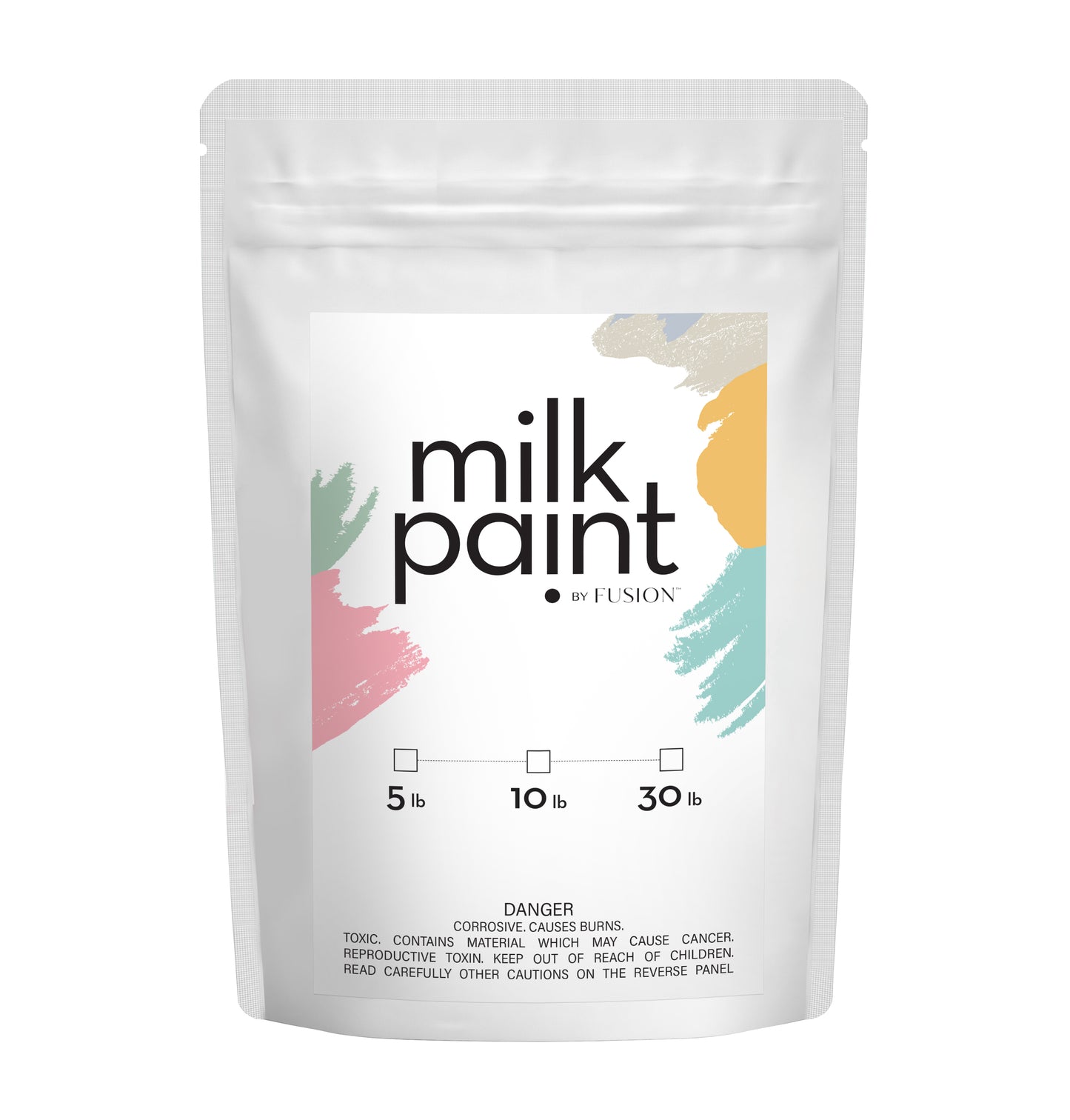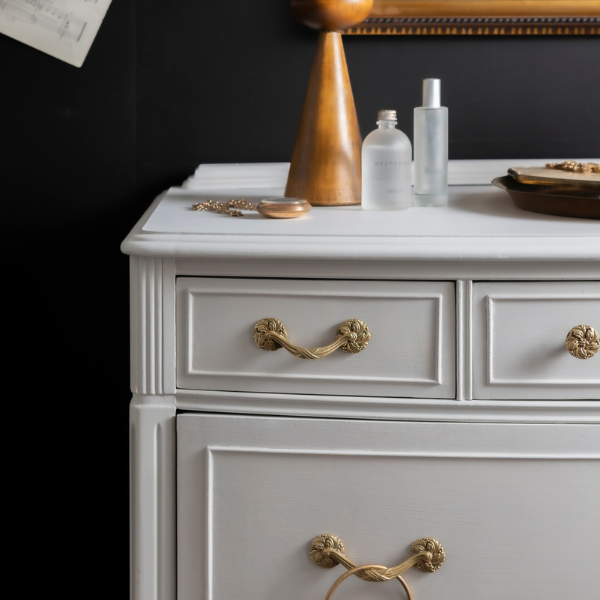 GETTING STARTED
Learn how to prep your furniture, apply our paint, choose a top coat or brush for your perfect project by checking our our free getting started guides.
DOWNLOAD THE GUIDES
SHIPPING & RETURNS

We strive to ship out every order within 2-3 days from ordering. If your order is placed before 10AM EST then consider that Day One. Please read more about our shipping policy here.

SHIPPING & RETURN POLICIES

PROJECT INSPIRATION

Discover all the different ways Fusion Mineral Paint has been used in varying projects. Get ideas, learn techniques, and get inspired! Check out our Fusion blog right here.

THE FUSION BLOG