Hemp Oil Wood Finish - Food Safe
Regular price
Sale price
$14.99 USD
Unit price
per
Sale
Sold out
This all natural food safe Hemp Oil Wood Finish is very easy to apply and moisturizes your hands at the same time! Goes on like liquid gold as we say here! Simply pour or brush on and wipe away the excess with a rag. Excellent over reclaimed or bare wood. It revives, conditions and protects wood for a beautiful, natural finish. 

Best on bare wood surfaces, where it will darken and richen the natural wood tones while adding a slight sheen, can be buffed for a higher sheen with multiple coats.
The oil will also help condition and protect the wood.The older the wood, the more Hemp Oil it will soak up and the darker it will become. This effect varies based on the type of wood as well, so we recommend testing a small area to ensure you are satisfied with the results.
Hemp Oil Wood Finish is food-safe, and can be used on wooden cutting boards, butchers' blocks, and charcuterie boards. It also provides a wonderful finish for wood flooring.
Hemp Oil Wood Finish is different from the oil bought from food stores, as it goes through a specific process that allows the oil to dry on its own (without added solvents or chemical driers) and keeps it from going rancid.
Our Hemp Oil has a smell reminiscent of crushed walnuts, and is an environmentally-friendly, locally-produced finish with no additives or preservatives. Hemp Oil Wood Finish penetrates wood surfaces to protect from the inside out. This oil does not leave a surface film that will chip or scratch.

Find out more about Hemp Oil in this video
| | |
| --- | --- |
| Application Tool |  Brush, lint free rag |
| Location |  Interior/Exterior |
| Re-coat Time |  As needed - if the wood looks dry, apply more. |
| Dry Time |  1 - 14 days  |
| Top Coat | Wax, Stain & Finishing Oil, Gel Stain or Tung Oil are optional for additional durability. If excess amounts of oil use a coat of odourless solvent to remove excess before applying Gel Stain & Top Coat. |
| Clean Up |  Odourless Solvent  for surfaces. If on hands, gentle soap and water. |
| Coverage |  See container. A little goes a long way - depending on wood species and how dry the surface is. |
| Finish/Sheen | Matte to high sheen. Each additional layer and buffing increases the sheen.  |
| Recommended Uses |  Food safe surfaces such as cutting boards, reclaimed wood or Milk Painted pieces.  |
| Can Be Applied To |  All water based or oil based finishes for increased lustre, however it will not add additional durability. |
| Can Be Painted Over |  Potentially once cured.  |
| How to Prep |  Apply over any surface or top coat for desired effect except wax. |
| Cure Time |  14-30 Days |
| Maintenance/ Cleaning |  Light cleaners, as they will strip away the natural oil. |
DIRECTIONS

HOW TO USE IT
We call this liquid gold! This all natural Hemp Oil Wood Finish is very easy to apply. Simply pour or brush it on, let it soak into the wood or paint finish and wipe away the excess with a rag.

COVERAGE
Coverage will vary taking into consideration what the oil is being applied. For example, previously oiled surfaces will require very little oil, whereas bare wood will require more.

WHAT IT WILL LOOK LIKE
It will not turn your surface green. This oil will darken and richen the wood with a soft lustre sheen. Generally the older the wood, the more it will darken it. This will vary based on the type of wood/species and the age of the wood. It is highly recommended to try a small amount on an area to find out how your project will look with this application.

Over Fusion Mineral Paint it will increase the sheen ever so slightly giving protection against dust that can show on darker colours. Over Milk Paint it is an amazing finish! Soaking into and binding with the Milk Paint to create a tough Water resistant finish.

CURE TIME
The oil will feel dry to the touch one day after the initial application, however complete drying can be several days. For example if there is too much oil initially applied, then small amounts of oil may rise over the first few days. This can be avoided by wiping the excess away with a cloth.

If used on a floor during this time it is recommended to place some cardboard pieces where there will be a lot of foot traffic. Dirty shoes should be kept off for at least two weeks.


On furniture over Fusion Mineral Paint and Milk Paint all excess must be wiped back leaving behind the thinnest layer. This will take a day to dry to the touch and 10 days to cure hard.


WHAT ELSE CAN IT BE USED FOR?
Used inside, this food-safe oil finish is perfect to use in the kitchen on wooden cutting boards, wooden utensils or stone. Also provides a wonderful finish for flooring.

Hemp Oil is great for nourishing old leather like your boots, handbag or even your wallet. Metal can also be revived with a little Hemp Oil too.


Wet sanding with Hemp Oil can really give you a buttery smooth velvety feel finish over the top of Fusion or Milk Paint. Using a soft grit sandpaper use the Oil as a lubricant to sand the finish smooth. The results are stunning.
BENEFITS

Food Safe

No Chemicals

No additives or preservatives

NO VOC's

Biodegradable

100% Natural Hemp seeds

It penetrates to protect from the inside out. It fills up the spaces in between the grain of wood and dries to a hard water resistant finish. This oil does not leave a surface film that will chip or scratch… how amazing is that?

This oil is great for those that suffer from chemical sensitivities and cannot use solvent based products. The odour of this oil is much like crushed walnuts.This oil is a great environmentally friendly locally produced product with no additives or preservatives.


This is different than the oil in the health food stores only insofar as we have put the oil through a process which allows the oil to completely dry on its own, without the use of added chemicals or dryers. Our Hemp Oil will not go rancid.
FREQUENTLY ASKED QUESTIONS

What makes Fusion's Hemp Oil different from the stuff I put on salads?
Our hemp oil is made a bit differently than what you put on your salad - this way it doesn't go rancid, but it also won't taste very good on your salad!

Can I use Hemp Oil over Fusion Mineral Paint?
Yes you can however we prefer to recommend the Stain & Finishing Oil instead as you can easily paint over it, Hemp Oil is difficult to paint over.

Can I use Fusion Mineral Paint over Hemp Oil?
Not right away. We recommend giving the hemp oil a couple of months to cure before trying to use Fusion over top. If the Fusion laces or beads, the oil is not ready to be painted on. There is no guarantee with this oil that you can 100% successfully paint over it.

Do I have to re-apply Hemp Oil?
It depends on your application. If you have applied the hemp oil to a raw wood surface and want to keep it in great condition, we do recommend re-applying every 6-12 months, or as the wood shows it needs it based on your needs. If you've put it over Fusion, you don't have to reapply unless you want to.

Can I use Hemp Oil outside?
Definitely! Hemp oil adds water resistance to the surface it is applied on. It is great for decks, Adirondack chairs, and picnic tables! For best results, we recommend re-applying the oil at least once a year.

Is Hemp Oil food-safe?
Yes it is. However, we advise against using the hemp oil as food.

Can I use Hemp Oil on my wood floors?
Definitely. For this application, it is best if you can sand the floors down to raw wood, apply the hemp oil in excess, and let it soak in. Leave it for 12-24 hours, then wipe away the excess. If there is no excess, you may need to apply more and repeat the process until your floors are saturated.

Can Hemp Oil be used outdoors?
Yes, Hemp Oil can be used for interior and exterior purposes.

How do I revive old wood with Hemp Oil?
Liberally apply hemp oil to old, dried out wood, and let it soak in. We recommend leaving it overnight, and then removing excess in the morning. If there is no excess, you may need to repeat the process. A lot of older wood does take several applications to be reconditioned.

Check this post for more information: https://fusionmineralpaint.com/hemp-oil-feed-grain/

Read all about the most frequently asked questions on our FAQ page.
Share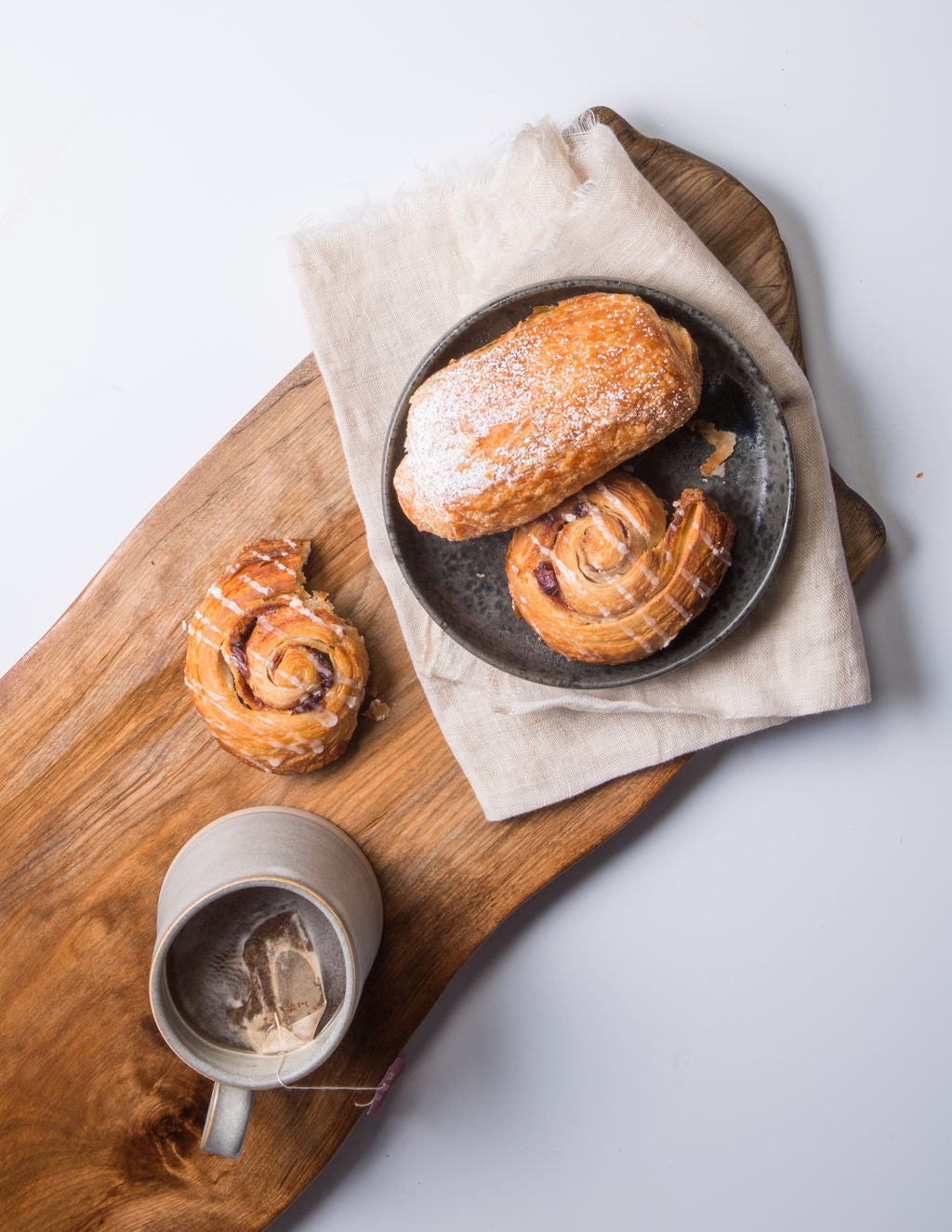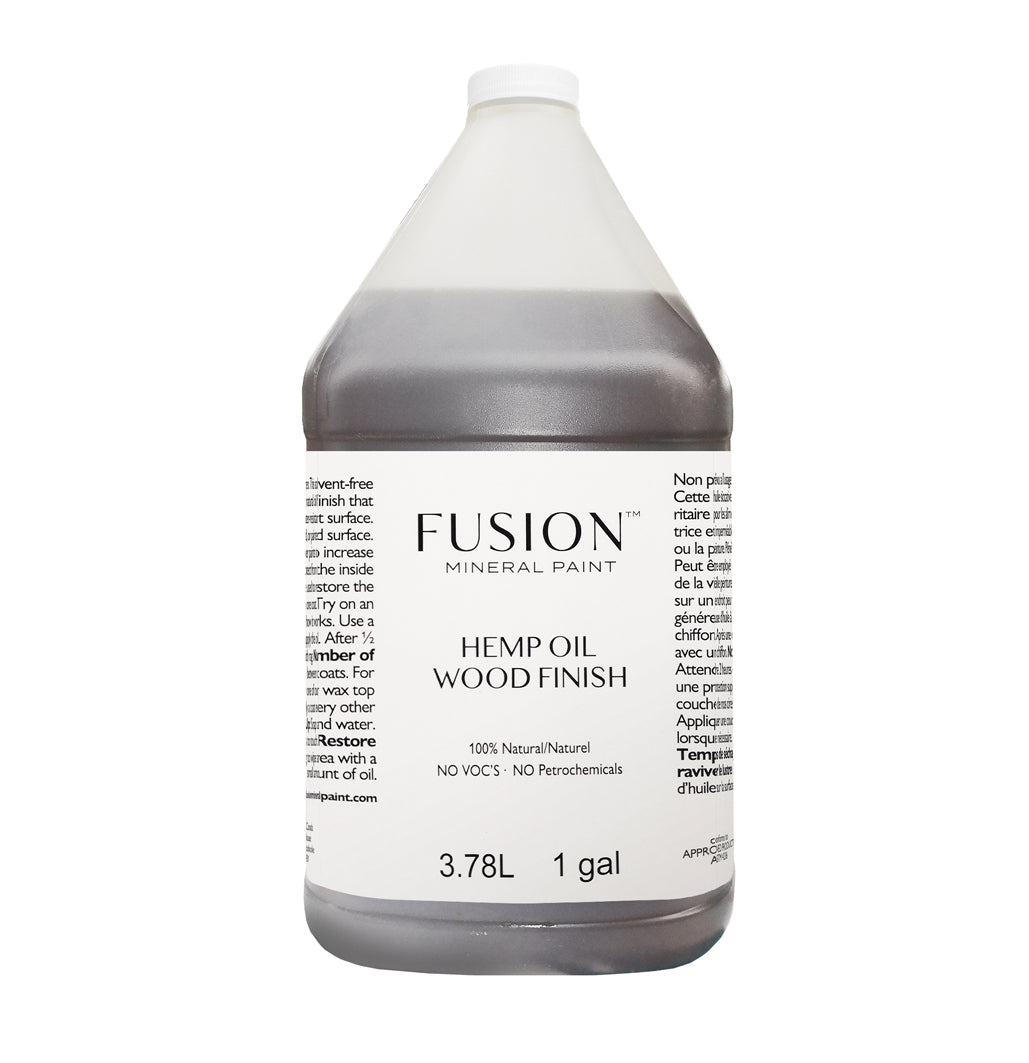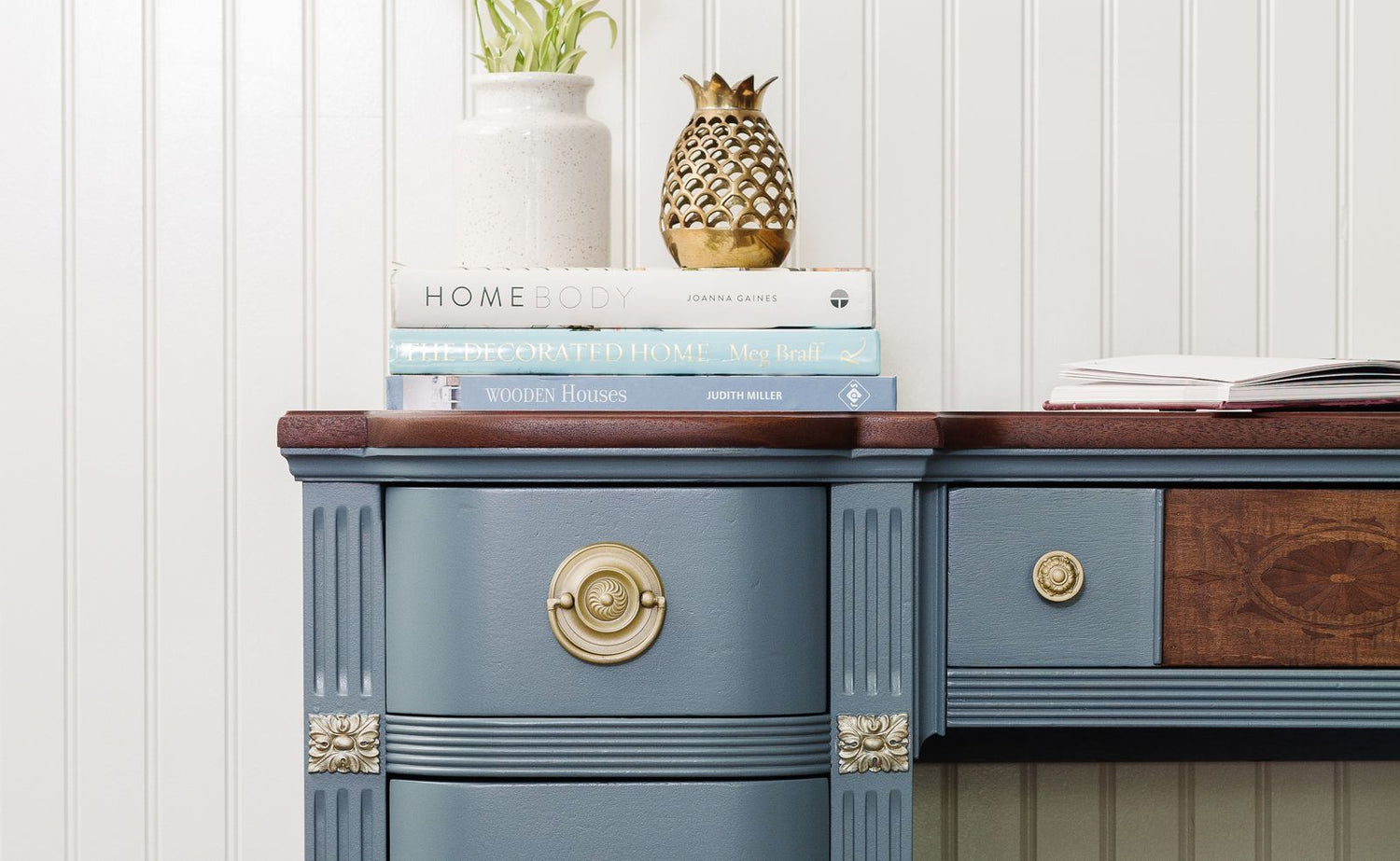 GETTING STARTED
Learn how to prep your furniture, apply our paint, choose a top coat or brush for your perfect project by checking our our free getting started guides.
DOWNLOAD THE GUIDES
SHIPPING & RETURNS

We strive to ship out every order within 2-3 days from ordering. If your order is placed before 10AM EST then consider that Day One. Please read more about our shipping policy here.

SHIPPING & RETURN POLICIES

PROJECT INSPIRATION

Discover all the different ways Fusion Mineral Paint has been used in varying projects. Get ideas, learn techniques, and get inspired! Check out our Fusion blog right here.

THE FUSION BLOG