Gel Stain & Top Coat
Regular price
$40.99 USD
Sale price
$54.99 USD
Unit price
per
Sale
Sold out
Our brush on Gel Stain and Topcoat is a one step finish, excellent for surfaces in rough shape to hide imperfections with minimal prep work required. Add colour and protection in one step.
Available in a 1 Quart size, this is great for most medium sized projects. 

This product is ideal for over all types of surfaces, scratched, uneven, unstable due to chipping as with milk-painted surfaces, melamine, laminate, pre-painted or stained wood surfaces. It's so versatile!

Greystone – Lightly pigmented, this translucent warm grey is reminiscent of stone. 

Black  - Lightly pigmented Gel Stain and Topcoat is a translucent black.
Double Espresso – This coffee brown Gel Stain and Topcoat is the darkest and heavily pigmented.  For those projects that need more of a cover-up it is easy to achieve a rich and almost opaque finish with 2 coats. 

Patina – Our "Clear" Gel Stain and Topcoat  is a very durable finish  that has a transparent amber yellowish tone. 
The Patina is translucent while Black, Greystone and Double Espresso are considered semi-transparent. Multiple coats will create a more opaque finish but the sheen will remain matte. Keep in mind your substrate colour will always show through. However, with the exception of Patina, the more coats you apply the more opaque it will become.

Watch this video to see how to apply GSTC over an old finish.
| | |
| --- | --- |
| Application Tool |  Brush or Staalmeester roller |
| Location |  Interior |
| Re-coat Time |  9 hrs |
| | |
| Top Coat | No additional top coat is required.- this is made strong enough for floors and table tops |
| Clean Up | Odourless Solvent - can also be used to thin the coats and create a faster drying/cure time. |
| Coverage |  100-150 sq.ft.  |
| Finish/Sheen |  Satin sheen |
| Recommended Uses | Virtually any surface with minimal prep required |
| Can Be Applied To | Use like a stain over raw or well-sanded wood; apply over painted surface for glaze effect, or added protection; seal milk paint or other porous paint. Not recommended over light colours as it will yellow. |
| Can Be Painted Over | After 10 days curing, with a clean and scuff sand. Test first to ensure adhesion prior to tackling your full project. |
| How to Prep | Apply over any surface or top coat for desired effect except wax |
| Cure Time |  7-10 Days |
| Maintenance/ Cleaning | Gentle cleaners |
DIRECTIONS

How To Use : Stir exceptionally well prior to use. Use in well ventilated area. Apply thin coat using brush or roller, do not wipe back. This is a self-levelling top coat. Wait 4-8 hours before applying second coat, if desired. First coat is translucent, subsequent coats become opaque.

Some of the colours can be a thick gel or a thin consistency. As you stir the product it becomes less gel like and is easy to brush on.

IDEAL SURFACES

Laminate, Lacquered, previously painted or coated surfaces.
Damaged or Scratched surfaces
Almost a no prep product- just clean and remove any wax or grease. No sanding or de-glossing required to apply this.
Extremely durable. Excellent for Flooring and heavy use kitchen table tops etc.
Works on Bare Wood surfaces for a beautiful satin finish.


CLEAN UP AND CURE TIME

Gel Stain is Oil Based
Mineral Spirits for clean up or thinning and quicker drying
Dries to the touch in 8 hours
Cures in 7-10 Days
BENEFITS

QUICK FACTS

This product is a Brush On and NOT a wipe on or wipe back product.
Use a natural bristle brush or a roller to apply.
Dries to the touch in 8 hours and can be re-coated at that time
Has a thicker gel like consistency - each color varies.
Long open time and self levelling.
1 Coat looks like a stain. Subsequent coats get more opaque.
Satin Finish.
FREQUENTLY ASKED QUESTIONS

What is the difference between this and Stain & Finishing Oil?
Our Gel Stain & Topcoat is our most durable finish, as it is a very resinous product. The Stain & Finishing Oil has less resin, more oils, and soaks into the surface, whereas Gel Stain primarily sits on top. The Gel Stain goes opaque in about 2-3 coats, whereas the Stain & Finishing Oil will remain slightly translucent for 3-4 coats.

What colours does it come in?
Patina (mostly colourless but with a slight ageing effect); Greystone (grey); Double Espresso (a rich dark brown); and Black.

How do I apply it?
You can use a brush or a roller to apply the Gel Stain.

How durable is it?
SO durable! Gel Stain & Topcoat is our most durable finish.

Can I use it on floors?
Definitely!

Is it food safe?
It is not. We caution against using this product on surfaces that come into direct contact with food.

Can I use it over Fusion™ Mineral Paint?
You sure can! You can use it as an additional topcoat - it is perfect for kitchen cabinets since it is so durable!

Can I use Fusion™ Mineral Paint over it?
Once it is cured - after about 5-7 days.

What prep is required?
Even less than you think! Gel Stain will adhere to most clean surfaces without even sanding!

Can Gel Stain be used outdoors?
No. Gel Stain is an interior finish.

Do I need a topcoat over this?
Nope! Gel Stain has a built-in extremely durable topcoat.

Read all about the most frequently asked questions on our FAQ page.
Share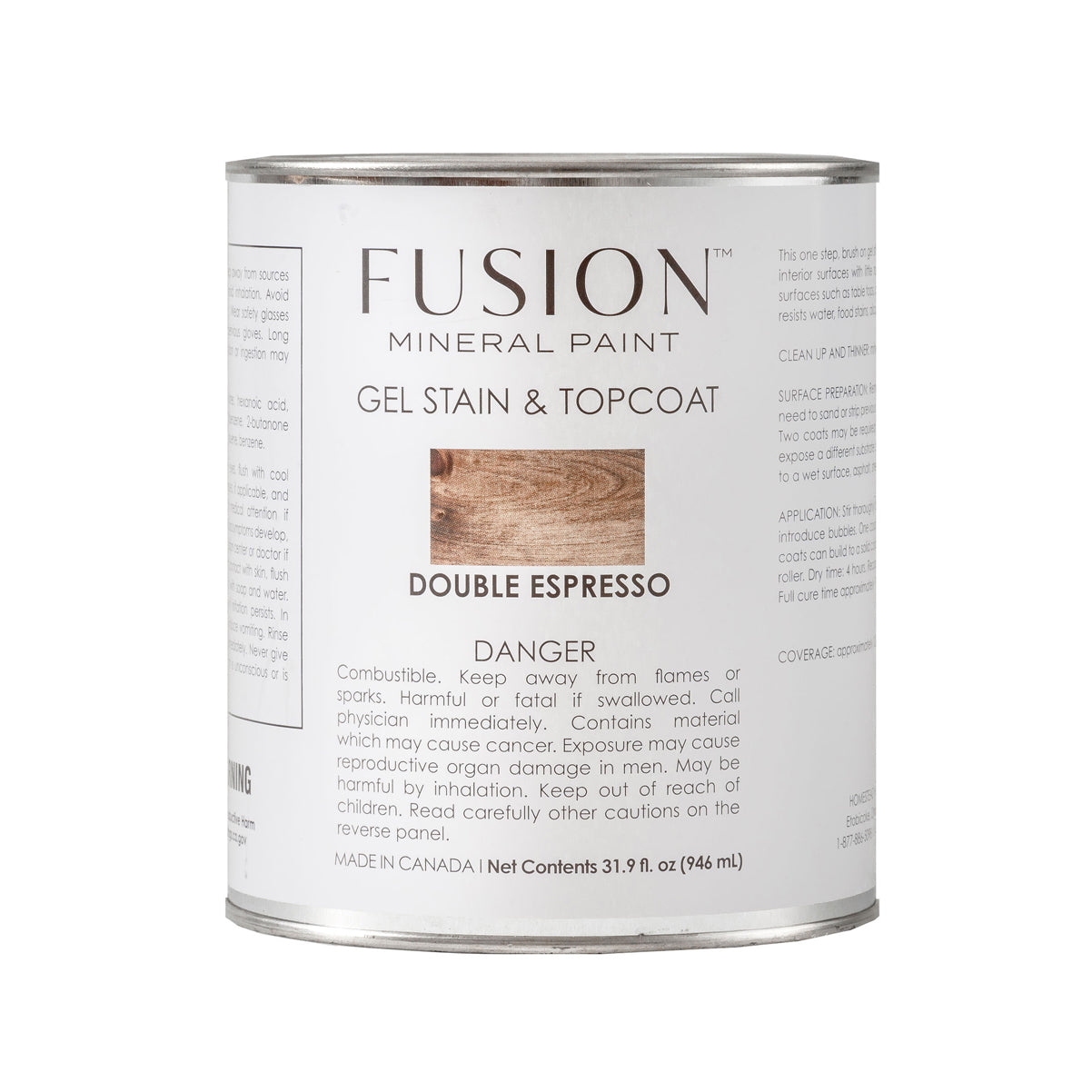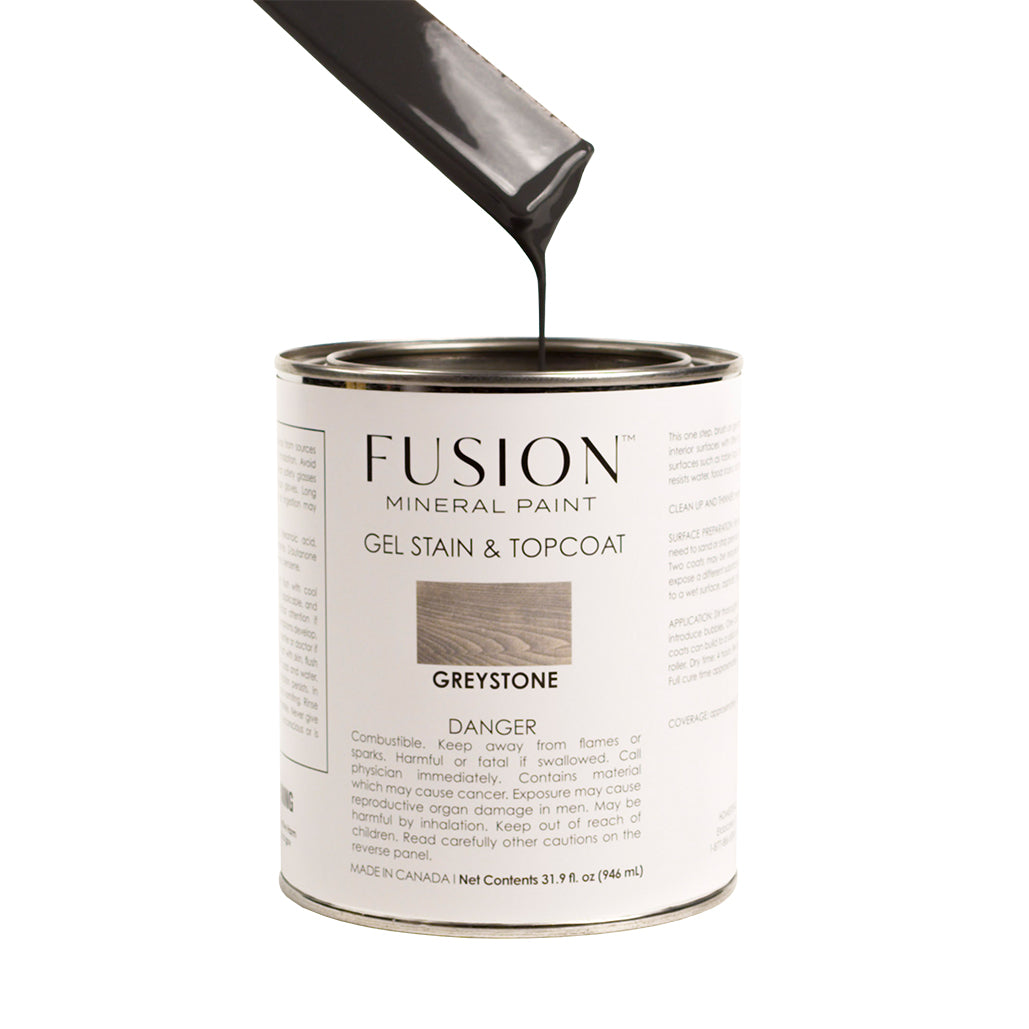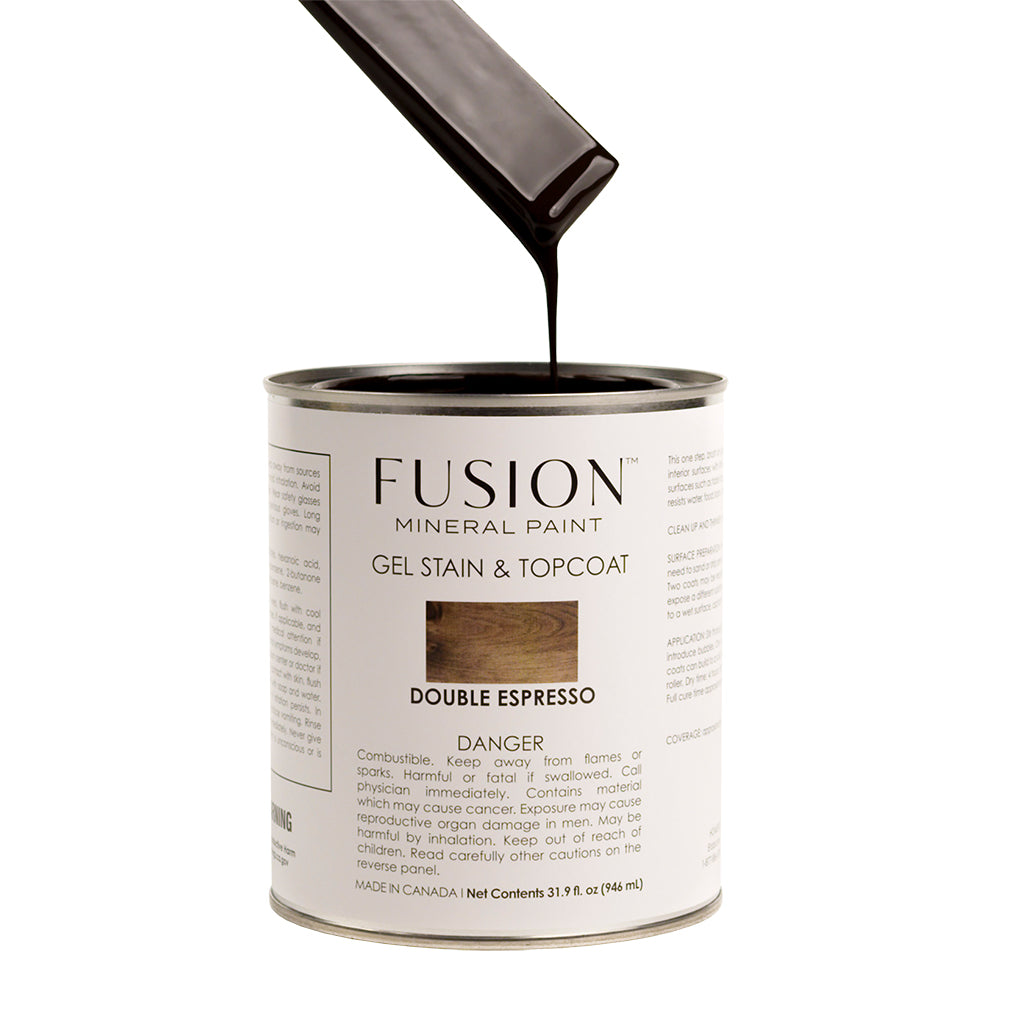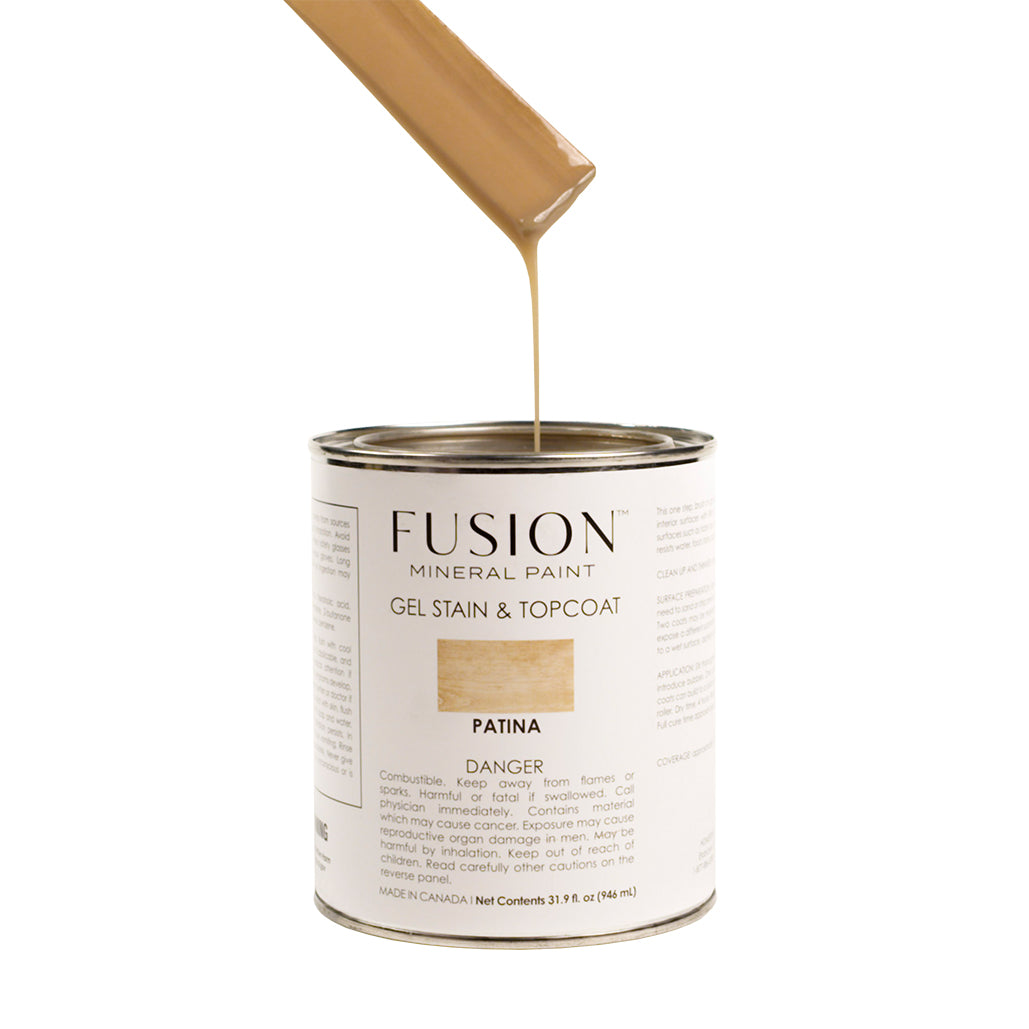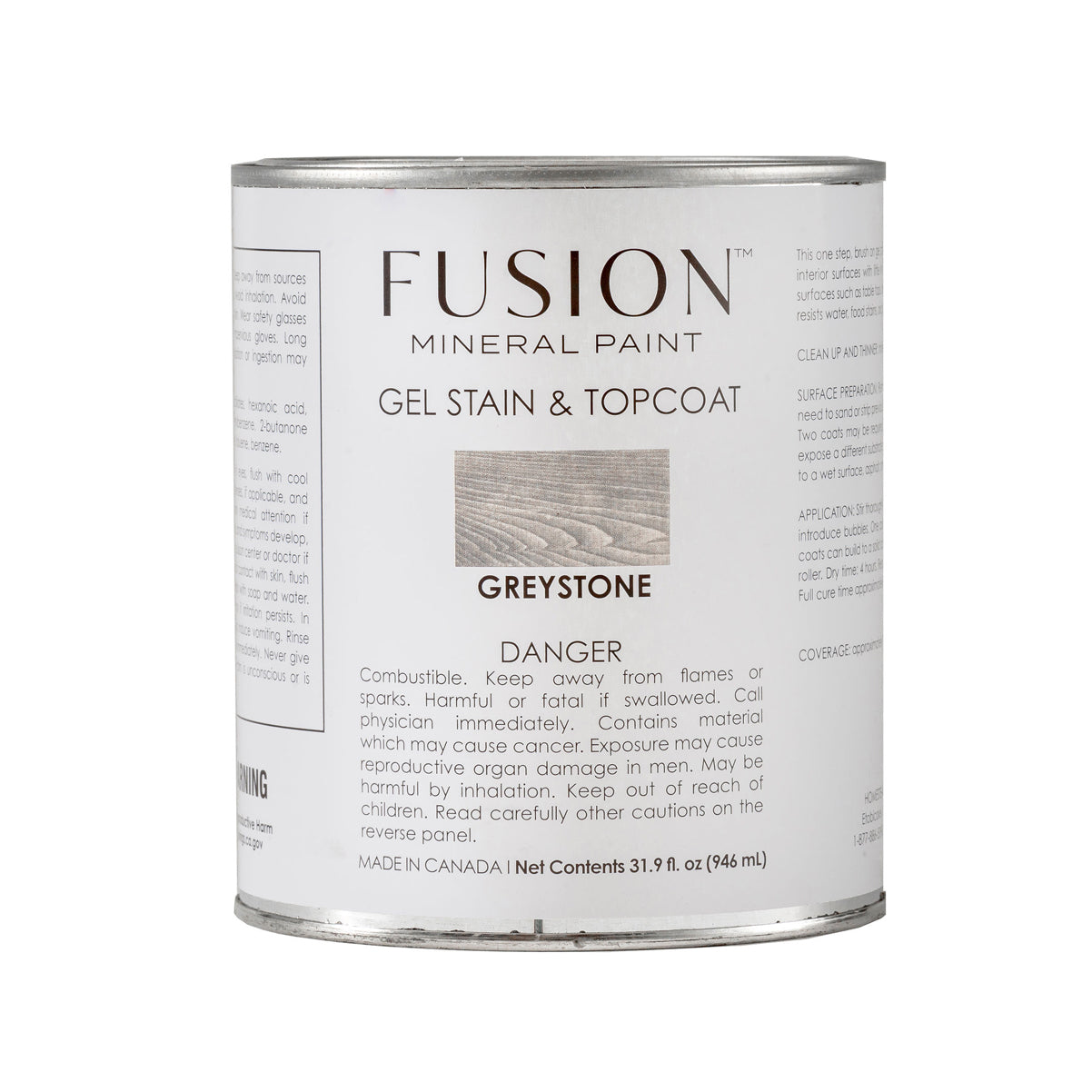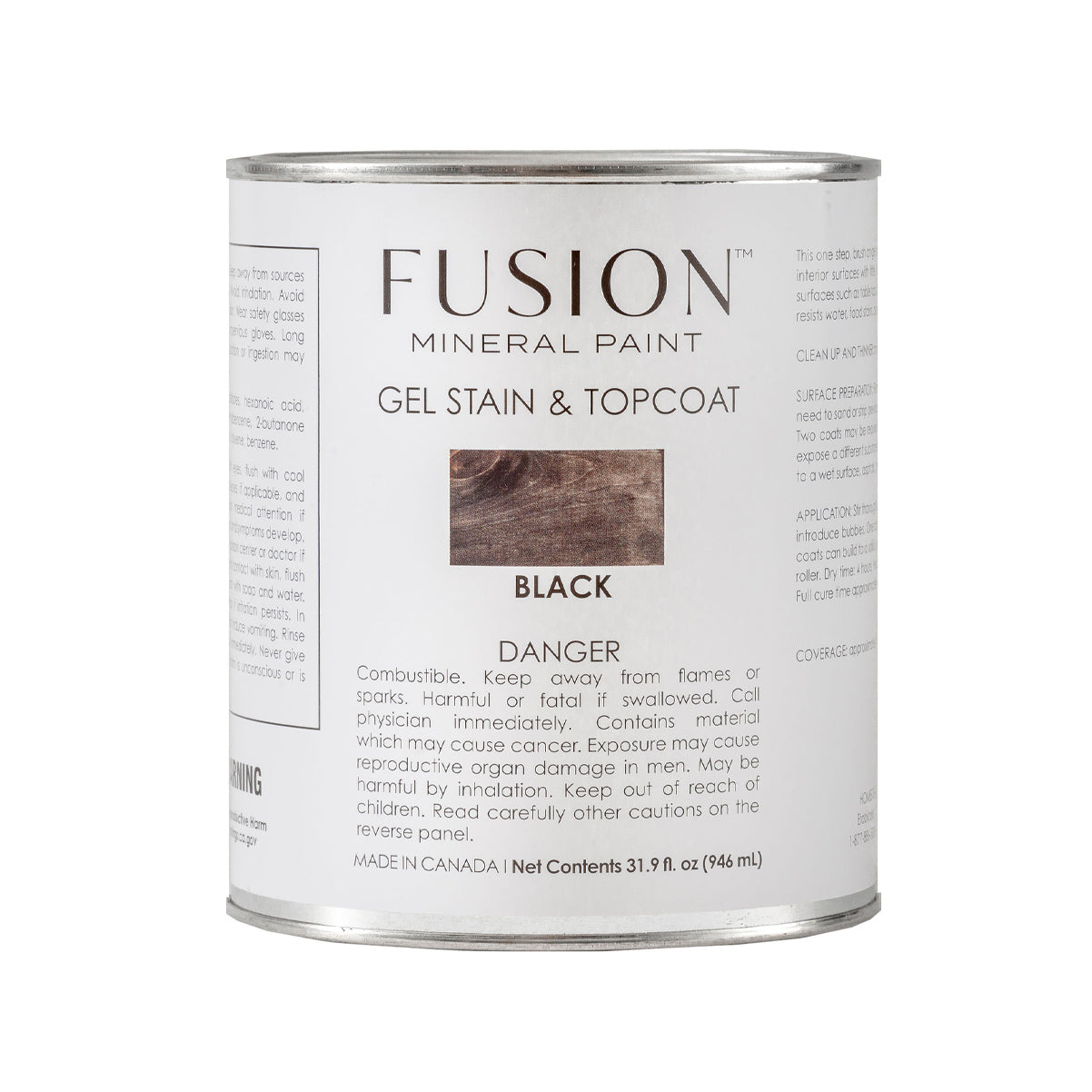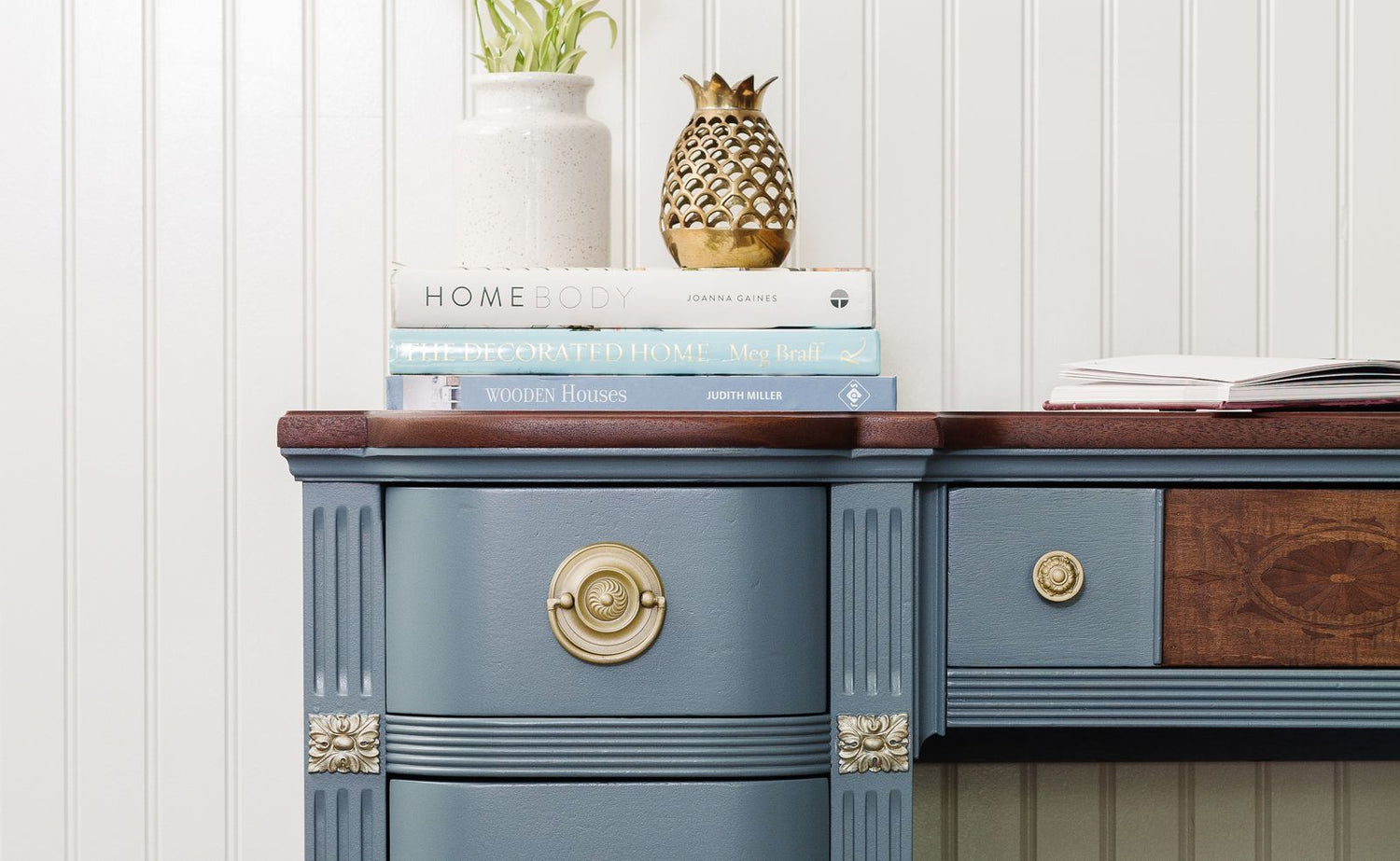 GETTING STARTED
Learn how to prep your furniture, apply our paint, choose a top coat or brush for your perfect project by checking our our free getting started guides.
DOWNLOAD THE GUIDES
SHIPPING & RETURNS

We strive to ship out every order within 2-3 days from ordering. If your order is placed before 10AM EST then consider that Day One. Please read more about our shipping policy here.

SHIPPING & RETURN POLICIES

PROJECT INSPIRATION

Discover all the different ways Fusion Mineral Paint has been used in varying projects. Get ideas, learn techniques, and get inspired! Check out our Fusion blog right here.

THE FUSION BLOG