Champness
Regular price
Sale price
$7.99 USD
Unit price
per
Sale
Sold out
An irreverent blue inspired by both sea and sky.
It's saturated enough to make a statement, yet has a wonderful calming quality to it.
Pair with Pebble for a cool casual feel.
Pair with Plaster for the perfect neutral balance.
See how to add vintage charm to a sideboard using Champness and Black Wax here!


Base : waterbased
Coverage : approx 75 sqft per 500 mL
Finish/sheen : matte
Clean up : water
Dry time : 30 min approx
Recoat time : 1-2 hours approx
Cure time : 21 days approx
DIRECTIONS

How to clean surface:
Mild soap and water

Can be used over
Most wax-free surfaces; tricky surfaces with use of Ultra GripTM

Can be painted over:
After re-coat time

How to use:
Prep, Paint, Done!
BENEFITS

Non-toxic
Minimal prep work
Easy application
Exceptional coverage
Gorgeous matte finish
No sealer required
Built-in topcoat for amazing durability
UV, water, and stain resistant
Lead-, ammonia-, formaldehyde-, and phthalate-free
7 year shelf life
FREQUENTLY ASKED QUESTIONS

What makes Fusion Mineral Paint so different?

Fusion is a 100% acrylic paint with no fillers! Our pigments are all derived from natural minerals, and our paint is 100% non-toxic with no lead, and no phthalates. Plus - it's got a built-in top coat that is UV, water, and stain resistant - meaning you don't have to wax or seal it!

To learn more about the Fusion Mineral Paint Difference, check out this page: THE FUSION DIFFERENCE

How long does it take to dry?

Fusion is dry to the touch in about 30 minutes, but for best results, we recommend waiting 1-2 hours between coats.

The paint takes about 21 days to cure (for the water to completely evaporate) and get to its most durable state, so we suggest being a little bit gentle for the first few days.

What can I use it on?

Just about everything! We've seen Fusion on front doors, kitchen and bathroom cabinets, even shoes! We're always testing the possibilities of Fusion, so if you find something new that works, let us know!

Can I use Fusion outside?

Yes! Fusion is water and UV resistant, so it can last through rain and won't fade in the sun. It's been tried and tested - it will last through a Canadian winter!

Check out some outdoor projects here.
Painting Outdoor Furniture

How should I prep my piece?

A good paint is only as strong as the surface you put it on, so prep is key to durability. We recommend cleaning all surfaces with our TSP Alternative or another degreaser. For surfaces with a bit of a sheen, we recommend a scuff sand to add some "tooth" for the paint to adhere to. If the surface is extremely high gloss, very detailed, or can't be sanded, you may need to use our Ultra Grip™ as an adhesion primer.

For wood surfaces that are prone to bleed through or to seal pine knots, we recommend a coat or two of Zinsser BIN Shellac-based primer. For more details, read our prep tutorial.

How much paint do I need?

Not as much as you think! Each 500 mL jar of Fusion paints about 75 square feet - which is about two coats on a large dresser. We chose to package Fusion in pints because it's the size that most projects require, without having too much left over.

Please note that coverage does depend on the colour you're painting with, your starting surface, and your painting technique.

Can I use Fusion on my cabinets?

Absolutely! Fusion is extremely durable and easy to wipe clean. Be sure to check out our kitchen cabinets tutorial to learn all the tips and tricks.

When do I need to use a top coat?

With Fusion, you never need to use a top coat, but there are times where you may want to. We do recommend a top coat for higher traffic surfaces like kitchen cabinets or dining tables. In this case, we recommend our Tough Coat™ for lighter colours and our Stain & Finishing Oil in Natural for darker colours. Extra topcoats may also be desired if you want to change the sheen of the paint.

Check out this blog post: When to use a top coat for more information.

What's the shelf life?

Fusion stays good for 7 years when it is stored in an airtight container. We like to put a sheet of plastic wrap between the jar and the lid if we know we aren't going to be using it in a while, as that helps to keep the air out!

Can you mix me a custom colour?

The only colours available are the ones we list on our website - but there's more than 50 of them so lots to choose from! And if that's not enough for you, we also have a recipe book of custom colours that you can make by mixing 50/50 or by adding one tester to a pint!

Check out our Custom Blending Tutorial here.
Share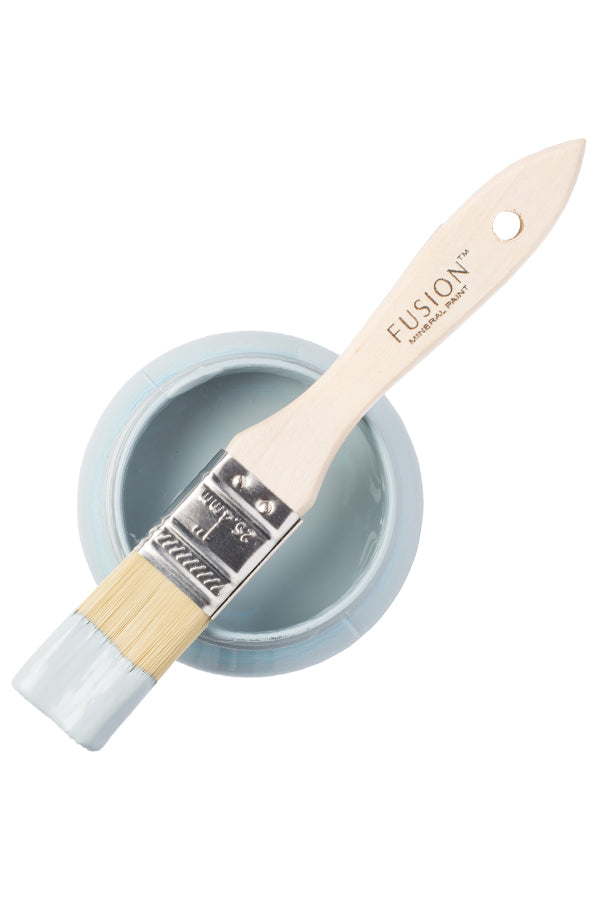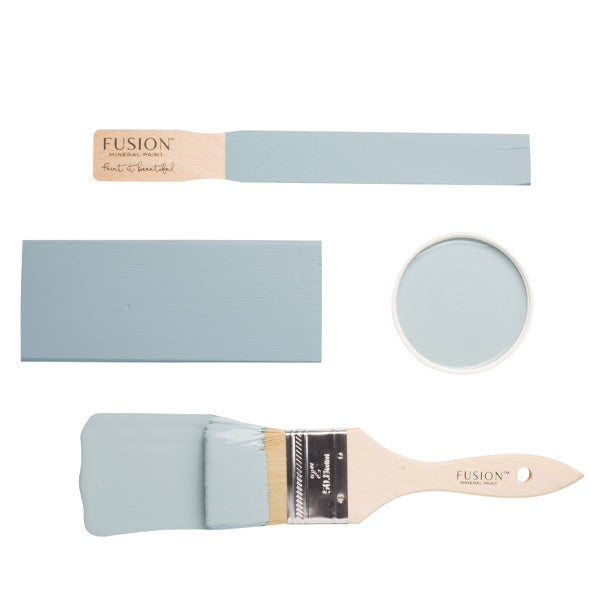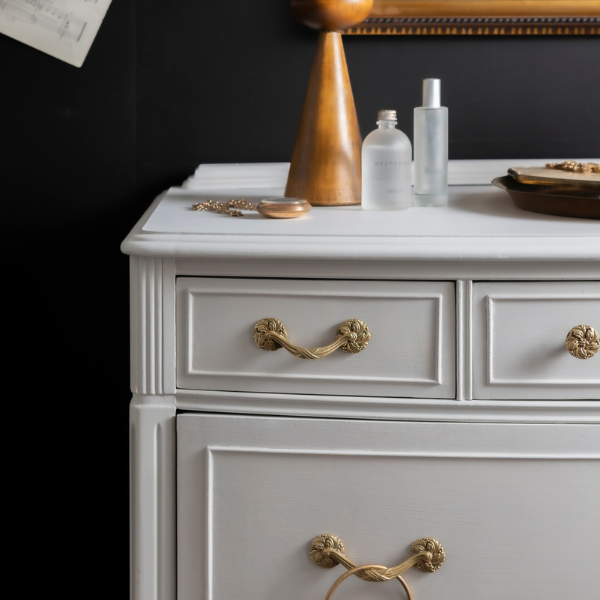 GETTING STARTED
Learn how to prep your furniture, apply our paint, choose a top coat or brush for your perfect project by checking our our free getting started guides.
DOWNLOAD THE GUIDES
SHIPPING & RETURNS

We strive to ship out every order within 2-3 days from ordering. If your order is placed before 10AM EST then consider that Day One. Please read more about our shipping policy here.

SHIPPING & RETURN POLICIES

PROJECT INSPIRATION

Discover all the different ways Fusion Mineral Paint has been used in varying projects. Get ideas, learn techniques, and get inspired! Check out our Fusion blog right here.

THE FUSION BLOG