Beeswax Finish - Food Safe
Regular price
Sale price
$20.99 USD
Unit price
per
Sale
Sold out
Our food safe Beeswax Finish contains only pure natural beeswax and hemp oil. This unique proprietary blend creates the most beautiful wood finish for reclaimed wood, kitchen utensils, cutting boards etc.
Food safe and all natural, our Beeswax Finish provides a soft satin finish that can be buffed to a shine.
Can be used over Fusion Mineral Paint ™ to add a satin finish and reduce the look of scuffs and fingerprints, especially on the darker colours. 
| | |
| --- | --- |
| Application Tool |  Brush, lint free rag |
| Location |  Interior low traffic surfaces |
| Re-coat Time |  As needed - if the wood looks dry, apply more. |
| Dry Time |  1 - 7 days  |
| Top Coat |  None recommended. Wax is always the final coating.  |
| Clean Up |  Odourless Solvent |
| Coverage |  150-300 sq.ft.  |
| Finish/Sheen |  Matte to high sheen. Each additional layer and buffing increases the sheen.  |
| Recommended Uses |  Food safe surfaces such as cutting boards, reclaimed wood or Milk Painted pieces. May be used on painted surfaces to increase sheen. |
| Can Be Applied To |  Virtually any surface or coating |
| Can Be Painted Over |  No  |
| Cure Time |  30 Days |
| Maintenance/ Cleaning |  Light cleaners, as they will strip away the wax.  |
Food Safe, No Chemicals & Biodegradable
DIRECTIONS

HOW TO USE IT
Apply liberally with a wax brush or lint free rag. All to sit on the wood for 5-10 minutes then remove excess by buffing with a lint free cloth. Re-apply as needed.

Will richen up reclaimed wood to a beautiful natural wood tone. The older the wood the deeper the tone.

WHAT ELSE CAN IT BE USED FOR?
Wooden kitchen cooking utensils
Cutting Boards
Over top of painted finishes to increase the sheen

QUICK TIP – using this amazing finish on top of a dark colour, such as our Coal Black will prevent marks from showing!
BENEFITS

DID YOU KNOW?
There are no solvents in this product, just pure beeswax and hemp oil.

Loved by woodworkers worldwide - many indicate that this gives one of the most unique finishes to aged wood.
FREQUENTLY ASKED QUESTIONS

What is the difference between Beeswax Finish and the regular Furniture Wax?Our Beeswax Finish is a food-safe blend of beeswax and hemp oil and comes in a single colour. Our Furniture Wax comes in 8 colours and is made of a blend of beeswax and carnauba wax. Can I use Beeswax Finish on my butcher's block? Yes! That's a great use for it. Beeswax Finish is food safe and a great water-resistant finish for a butcher's block. Can I use Beeswax Finish over Fusion Mineral Paint? Yes you can. Beeswax Finish gives a beautiful satin sheen over Fusion Mineral Paint. Can I use Fusion Mineral Paint over Beeswax Finish? No, unfortunately not. Any wax will need to be removed first with mineral spirits. What else can I use Beeswax Finish for? Beeswax Finish makes a great resist to make distressing easy, kind of like our Beeswax Distressing Block. You can also use Beeswax Finish on your leather shoes to revive the leather, condition it, and bring back its natural lustre. Check this post for more information: https://fusionmineralpaint.com/beeswax-finish-2/

Read all about the most frequently asked questions on

our FAQ page.
Share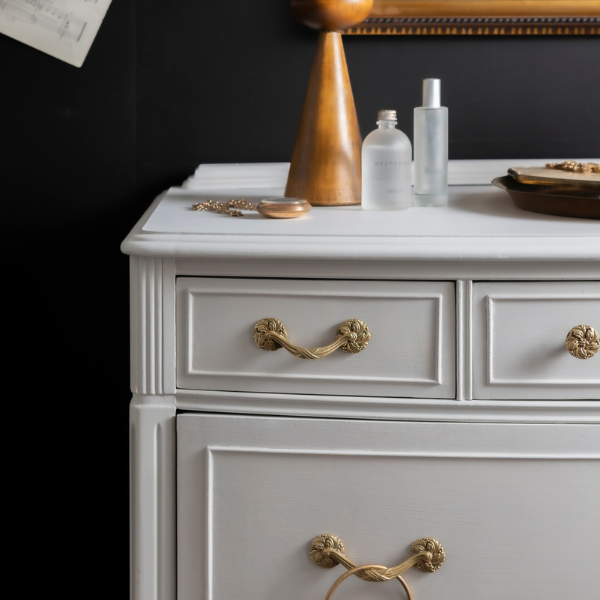 GETTING STARTED
Learn how to prep your furniture, apply our paint, choose a top coat or brush for your perfect project by checking our our free getting started guides.
DOWNLOAD THE GUIDES
SHIPPING & RETURNS

We strive to ship out every order within 2-3 days from ordering. If your order is placed before 10AM EST then consider that Day One. Please read more about our shipping policy here.

SHIPPING & RETURN POLICIES

PROJECT INSPIRATION

Discover all the different ways Fusion Mineral Paint has been used in varying projects. Get ideas, learn techniques, and get inspired! Check out our Fusion blog right here.

THE FUSION BLOG